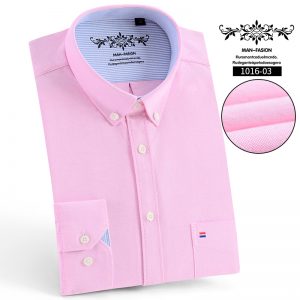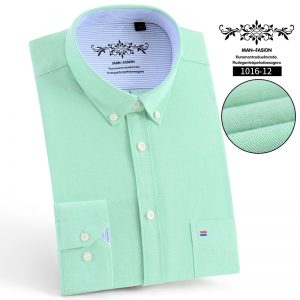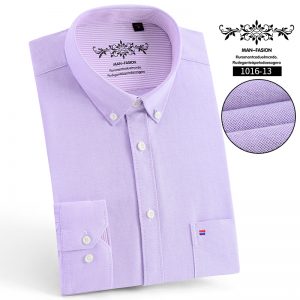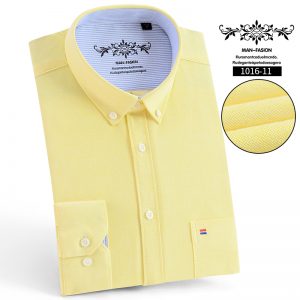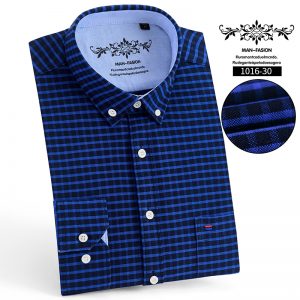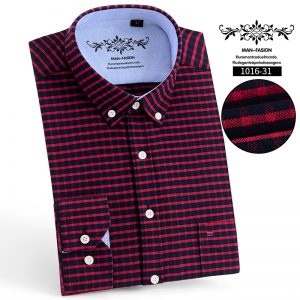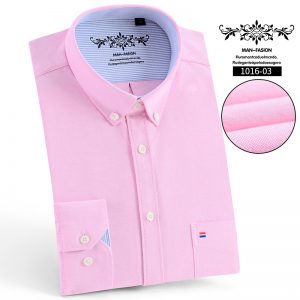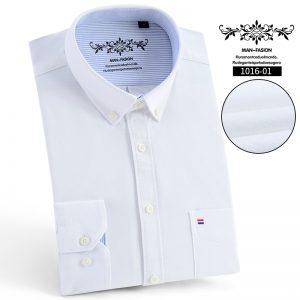 Product Description:
| | |
| --- | --- |
| item | value |
| Age Group | Adults |
| Gender | Men |
| Product Type | Shirts |
| Closure Type | Single Breasted |
| Pattern Type | Striped |
| Shirts Type | CASUAL SHIRTS |
| Collar | Stand |
| Style | Casual |
| Sleeve Length(cm) | Full |
| 7 days sample order lead time | Support |
| Supply Type | In-Stock Items |
| | 1200 |
| Material | 100% Cotton |
| Fabric Type | Satin |
| Technics | Plain Dyed |
| Feature | Anti-wrinkle, Breathable, Sustainable, Plus Size, QUICK DRY |
| Season | Spring |
| Place of Origin | China |
| | Guangdong |
| | i.finelong |
| | CF1016-03 |
| Sleeve Style | long |
Shirt (a kind of clothing, mostly simple clothing)
A shirt is a top that can be worn between the inner and outer jackets or can be worn alone. Male shirts usually have pockets on the chest and sleeves at the cuffs. [1] There were shirts in the Zhou Dynasty in China, which were called Zhongyi, and later called Zhongdan. In the Han Dynasty, the close-fitting shirt was called the toilet min. The name shirt has been used in Song Dynasty. It is now called a Chinese shirt. In the 16th century BC, the 18th Dynasty of Ancient Egypt had shirts, which were collarless and sleeveless tunics. The shirts worn by Normans in the 14th century had collars and sleeves. In the 16th century, it was popular in Europe to embroider on the collar and chest of shirts, or to decorate lace on the neckline, cuffs, and chest. At the end of the 18th century, the British wore hard high-necked shirts. In the Victorian period (1837-1901), high-collar shirts were eliminated, forming modern Western-style shirts with stand-up collars. In the 1840s, Western-style shirts were introduced to China. At first, shirts were mostly for men, but they were gradually adopted by women in the 1950s, and they are now one of the most commonly used clothing.
How to wear shirts
There are many types of shirts, whether it is a suit for formal occasions or a casual outfit for vacation, shirts are inseparable everywhere. What kind of shirt to wear on what occasion and how to wear it gives a completely different impression. Understanding the texture, selection method, dressing method and tie-in method of shirts is the basic common sense that modern people must know.
different models
High-end shirt
Occasion: Important social events such as banquets, evening parties, celebrations, etc.
Quality: exquisite texture, artistic, black or white is the best.
Tips for details: You don't need to buy pure silk cotton, linen and wool. These fabrics are easily deformed, yellowed, pleated, and are more expensive. You can buy woven, hemp, yarn and synthetic fabrics with good craftsmanship and good texture.
Professional casual shirt
Occasion: Go to work, daily activities.
Quality: Material selection and model selection tend to be comfortable, and professional wear is casual.
Tips for details: This type of shirt should be a little more formal and delicate, single color or striped, to match a solemn and clear image.
Casual home shirt
Occasion: At home, walking, playing.
Quality: Comfortable pure cotton fabric with personalized color patterns.
Tips for details: The selection must be loose, and at the same time good quality, because leisure is not the same as casual.