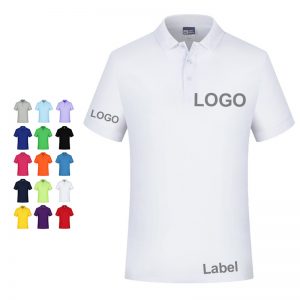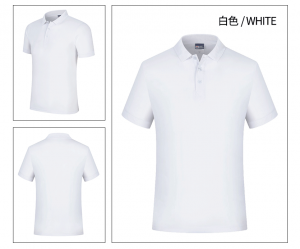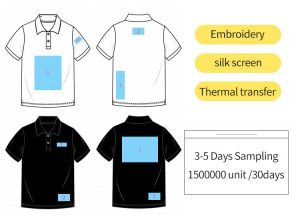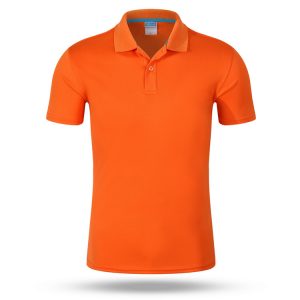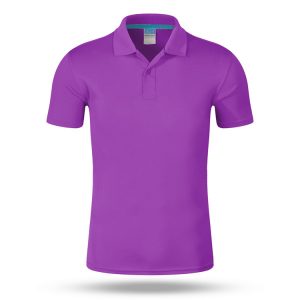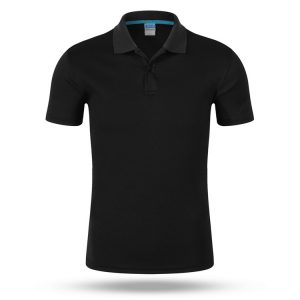 Product Description:
Products
T shirt, Polo Shirt, Hoodie(Sweatshirt)
Logo
Can be costomized(You can choose following LOGO technology
Fabric
Cotton(100% cotton), Long-staple Cotton(85% cotton+15% polyester)
Modal(95% polyester+5% spandex), Combed Cotton(100% cotton)
Polyester(100% polyester), Mercerized Cotton(65% cotton+35% polyester),ETC.
Feature
Eco-Friendly,anti-shrink,Anti-Pilling,Breathable,Comfortable,Quick Dry,Plus size,
Suitable Occasion
Casual/Office/Social Contact/Hip Hop/High Street/Punk Style/Moto&Biker/
Preppy Style/England Style/Harajuku/Vintage/Normcore etc.
Neck
O-neck, Turn-down collar, stand collar, V neck, Polo neck, Turtleneck, etc.
Sleeve
Short sleeve, long sleeve, Half sleeve, sleeveless,etc.
Size
XXXS, XXS, XS, S, L, M, XL, 2XL, 3XL, 4XL, 5XL etc. Size can be Customized for bulk production
Color
White, black, gray, red, blue, yellow, green, navy, pink, khaki etc.
Color can be Customized for bulk production
Weight
140g, 160g, 180g, 200g, 220g, 240g, 260g, 280g, 300g etc.
Craftworks
Hot sizing process/Heat transfer print/Embroidery/Screen printing
Sample time
For our in-stock items:
1~3 days for blank t shirts/hoodie
2~5 days for orders of Heat Transfer Print/Hot Sizing Process/Gold,Silver Ironing Process
3~7 days for orders of Embroidery/Screen Printing/All Over Printing (AOP)
For sizes or colors or fabric customed Clothes:
It depends(usually 5~15 days).For more information,please contact us.
MOQ
Blank garments without logo:200pcs
Custom garments:MOQ=100 pcs
Delivery
DHL/UPS/Fedex/TNT/EMS/By sea/By air/etc.
Payment
Western Union,T/T,Moneygram,Paypal,etc
Packing Details
1 pcs in a poly bag, cartoon is available if you need it.
Polo shirts Collocation:
How to wear POLO shirts, this question is not asked by one person, many people have the same question. So what are the skills for matching POLO shirts? We are divided into three steps to match, please see below for details:
Match according to the skin:
People with white skin are relatively easy to choose. You can try POLO shirts of various colors, but also pay attention to if your skin is very white, then avoid cool color POLO shirts, otherwise it will highlight poor complexion. This kind of skin tone is best to wear light shades such as pink, blue, yellow, light orange and light green.
For black-skinned boys, black skin can show your health by itself, and Jianshuo is very suitable for choosing POLO shirts. In terms of color, you might as well try white, which will definitely give you a different feeling. Of course, you can also choose some cool colors, such as brown-red, brown-yellow, and deep purple. But remember not to wear too bright colors such as pink, emerald green, bright yellow, because such a pol shirt will make your skin look darker.
Match according to personality:
How to show different personalities by choosing different POLO shirts. If you want to become introverted and gentle, you can choose a light-colored POLO shirt, such as light pink, light green, etc., or you can choose a POLO shirt with a relatively large stripe interval.
Match the shoes according to:
It is said that shoes are the face of men, and polo shirts should be more attention to the matching of shoes. White polo shirts with white leather shoes will look more business, and the matching with sports shoes is more popular with men. Has a strong taste of sports and leisure.
Common ways to wear
Wear directly next to the body (the most common way of wearing):
But there are also many people who don't wear it like this. They often choose a solid color T-shirt as the base, wear a round neck T-shirt next to the body, and then coat a POLO shirt. This will make people feel simple, generous and layered, and at the same time It can also protect POLO shirts.
Untie the two buttons and wear:
Generally, POLO shirts will have 2 buttons. If you wear them next to your skin, it is recommended to buckle the bottom button and untie the top one, or untie the two buttons and match a necklace to make your chest look less hollow. If you already have a T-shirt base, you may wish to untie both buttons. In addition, unless in more formal occasions, we do not recommend to buckle all the buttons.
Vertical collar wear method:
Another very popular way to wear it is to put the collar of the POLO shirt up, which looks very fashionable. But remember that it is best not to stand up your collar when you are indoors.
If you want to become outgoing, you can try colorful POLO shirts, such as green, red, or dark pinstriped POLO shirts, which can make you feel very cool. If the size of the POLO shirt is one size larger, wear it loosely, or choose a smaller size POLO shirt to make yourself more self-cultivating, which will make you look more fashionable.
Company Information:
Why choose us?
16 years company history
• Selling to more than 40 countries
• Sales team Average 11 years working experience .
• Flexible lead time within 30-45days
• Supply Chain Control System, from yarn dye to finished clothing
• One stop service from design to shipment .