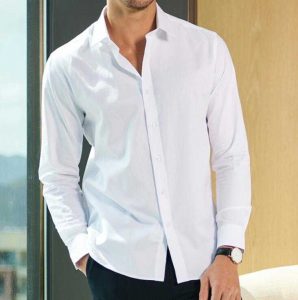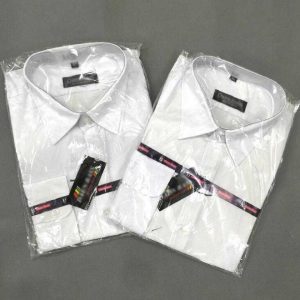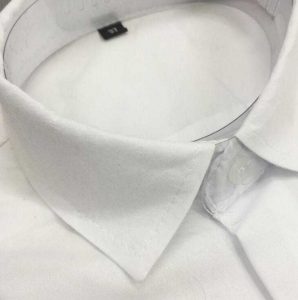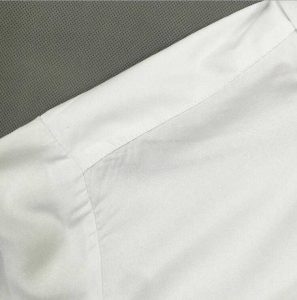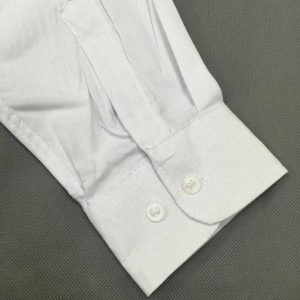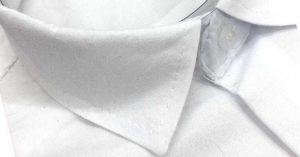 Product Description
| | |
| --- | --- |
| Item: | Men's long-sleeved white shirt professional dress wedding groomsmen solid color activity shirt shirt jacket T-shirt sweater |
| Packing: | Opp bag |
| Color: | white |
| Size: | 37,38,39,40,41,42,43,44,45,46 |
|   Weight: |   0.35kg |
| Sample: | Please consult customer service |
| Delivery time: | 1-3 days after payment down,bulk products 3-7days custom need discussion |
| Payment term: | TT, Western Union, Trade assurance, Wechat for samples or Client's |
How to choose casual shirts?
Skin tone selection
People with darker skin will look darker and yellower wearing shirts with green and gray tones and will cause some dirty feeling; people with fair skin can wear bright shirts to set off the skin very white, but this often makes men look too much. Feminine, lack of masculinity. Fat people wear small square shirts will look a little frustrated and cramped, they should choose a pointed shirt with a large collar. For tall and modest people, don't choose shirts with decorative buttons on the collar, although they are popular nowadays.
Face selection
When choosing shirts for different faces, you should pay attention to the following differences: people with round faces are most taboo to wear a semi-circular lotus leaf collar or a round-neck shirt with all the buttons; people with a square face should wear like a crescent moon Do not wear stand-up or cheongsam-collar shirts for the usual loofah-collar shirts to soften the contours; for people with long faces, it is recommended to wear standard shirt collars to avoid lengthening the facial contours. For people with inverted triangle face, it is recommended to wear a small round neck shirt to harmonize the edges and corners of the face, and avoid wearing a too slender pointed-collar shirt; for people with egg-shaped face, it is between the long face and the inverted triangle face, suitable for all collars Type shirt.
Collar selection
Hetero-color collar-taste type
Plain or striped shirts with white collars have white cuffs. The collars are mostly standard collars or open-angle collars. There are also many collar tips, usually round, matching the paisley pattern. Men who choose heterochromatic collars must pay attention to coordination in collocation, otherwise they will be classified as "no taste" if they are not careful.
Open collar-romantic
The angle of the left and right collars is between 120 degrees and 180 degrees. This collar type is also called "Windsor" collar or "French" collar. Just because the Duke of Windsor, who "didn't love the country and the beauty", liked this collar most. With the return of the romantic trend in the new century, the Windsor collar has become popular again, but the matching tie is a less popular "quasi-Windsor knot", reflecting the exquisite modern thoughts of modern times in the retro.
Button collar-sporty
The tip of the collar is fixed to the body with buttons. It was originally a sports shirt. It is the only collar type of all shirts that does not require oversize. This type of collar is mostly used on casual shirts, such as denim shirts. It is mainly made of checkered patterns or polka dot patterns. The fabric is made of cotton fabric or Oxford with general structure, but some business shirts also use button collars. The purpose is to fix the tie, so it is best to match it with a fine-knotted silk tie, preferably a fine-knot that only wraps around the tie.
Long pointed collar-fashion
The slender and pointed collar, with concise and decent lines, has the characteristics of diversified clothing in the new century. It is not very picky about ties. It is abstract, cartoonish, slightly brighter prints, and classical stripes are all suitable… to give full play to its creativity , It is especially suitable for matching with the latest popular two-button suit jacket with narrow lapels. It is fashionable and restrained, and is very suitable for urban white-collar workers who do not like to show off.
Precautions
In the choice of shirts, we have to choose different shirts according to the different characteristics of our body. For example, if you have a short neck, choose a low-necked or V-shaped shirt to pull out the proportions of your neck; if you have a large chest, don't wear a low-cut or pocketed shirt, because it will give people a frivolous feeling. ; Choosing a shirt of the right length, tucked into trousers, or tied with a bow at the waist will give people an elegant feeling.